COST ACTION MP0905 - BLACK HOLES IN A VIOLENT UNIVERSE
This conference is supported by the Vice-chancellery of Research and Scientific Policy of the University of Valencia
2nd WORKING GROUPS MEETING & 2nd MC Meeting

15 - 16 November 2010

Valencia / Spain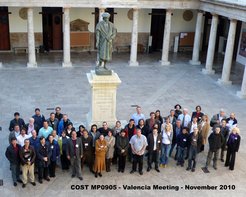 Organisers:
Eduardo Ros Silke Britzen Izabela Rottmann Viola Tegethoff
---
This second Working Groups (WG) meeting shall provide all participants with the opportunity to continue our networking with Black Hole experts from all aspects of this research field, to discuss ideas and burning scientific questions and develop new strategies/projects to tackle them.
In the conjunction of the 2nd WG meeting there will be also an Management Committee meeting 16. November 2010, morning. This meeting will assure the supervision and coordination of the implementation of the COST Action MP0905.
Please note that the MC meeting is for the MC-members of the Action MP0905. All MC members are very welcome to participate in the WG Meetings, in that case one shall register to the WG meeting additionally.
Please note that this meeting is for the MC members
Actions of the WGs (see COST1stWGMeeting)