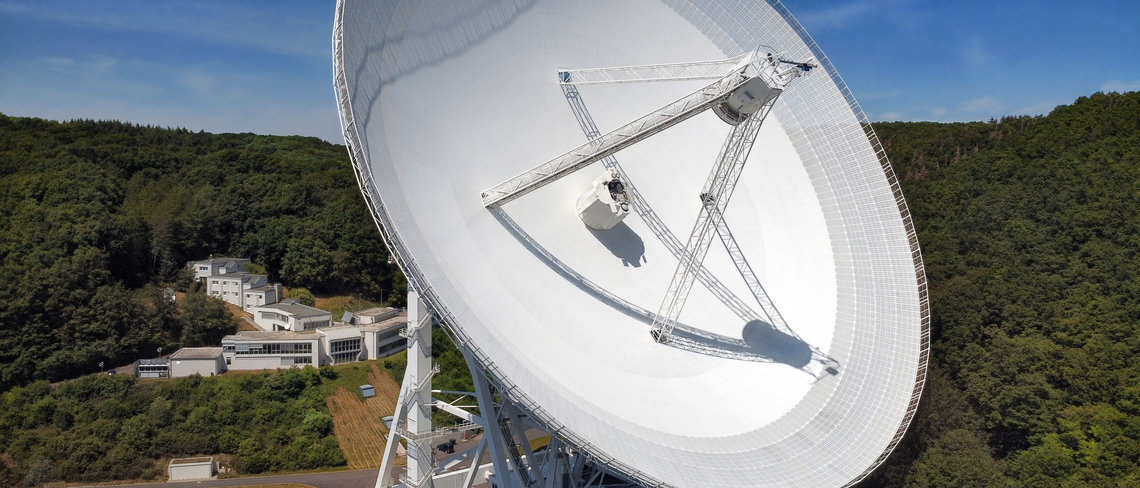 Max Planck Institute for Radio Astronomy
Auf dem Hügel 69
D-53121 Bonn - Endenich
News
Research News
An international team of scientists with participation of the Max Planck Institute for Radio Astronomy has used new millimetre-wavelength observations to image for the first time the link between the ring-like structure that reveals the matter ...
On March 28, the German Federal Research Minister Bettina Stark-Watzinger visited the Square Kilometre Array Observatory (SKAO) supertelescope under construction in South Africa together with Dr. Lindsay Magnus, Director of SKA-Mid in South Africa ...
Announcements
The first radiation belt observed outside our solar system has been identified, using a coordinated array of 39 radio dishes from Hawaii to Germany including MPIfR's 100-m Effelsberg radio telescope within the High-Sensitivity Array (HSA) to obtain ...
The Effelsberg Radio Observatory, home of the giant 100-m Radio Telescope of the Max Planck Institute for Radio Astronomy (MPIfR), will celebrate its next Open Day on Saturday, September 09, 2023, between 10 am and 5 pm. The Open Day provides an ...
Job Offers
Unfortunately, there are currently no job offers in English. Please also visit the German job portal on this website and the central job portal of the MPG.