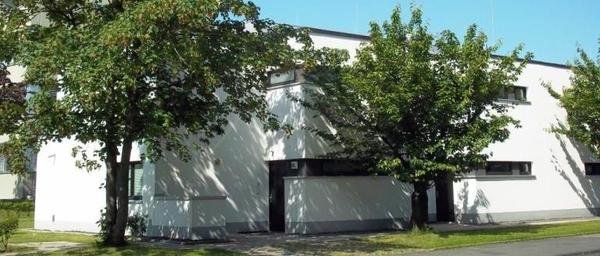 Welcome to the MPIfR guest house!
Our guest house, conveniently located right next to the Institute, has eight single rooms, two small apartments and one large apartment. Housing is available for all domestic and international guests.
Arrival and Departure
Check-in: any time after 12pm
Check-out: any time before 10am
Please note that keys are available at the reception desk between 12pm and 4:30pm Monday through Thursday and Fridays between 12pm and 2:30pm.
If you plan on arriving outside of this time frame, please notify your contact person at the Institute or the group secretary in advance.

General Information
All rooms are non-smoking.
Pets are not allowed.
Grocery stores are within walking distance.
For those who do not have the time or do not wish to make use of the cooking facilities in the guest houses and apartments, the MPIfR cafeteria is open Monday through Friday for breakfast between 7:30 and 9am and for lunch between 11:30am and 1:30pm.
Reservation
Contact the group secretary to request a reservation.
Availability is limited, so please be sure to request a room well in advance of your intended stay.
Payment
Payment may be made in cash prior to departure or via credit cards (Visa or Mastercard).
We cannot accept Girocard payment.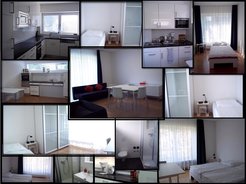 Amenities
All rooms and apartments are equipped with the following:
Fully furnished and equipped living and cooking areas.
Fresh towels and bed linens are provided and are changed out regularly.
Telephone and internet connection (WLAN) is available.
Regular room cleaning (However, dishes must be cleaned by the tenant).
Washer and dryer are available for common use in the basement.
Parking is available in the Institute parking lot.
Due to fire safety regulations, any additional overnight guests not listed in the original registration must be announced and registered upon arrival.
At a Glance
Single rooms

Two-room apartment*

Large apartment

size
about 15 m2
about 40 m2
about 80 m2

max occupancy


1
2
5 - 6

min/max stay

1 night - 3 months
1 night - 3 months
1 week - 6 months
description

• room with single bed

• bathroom with shower and toilet (no tub)

• shared kitchen

• combined living and cooking area

• bedroom

• bathroom with shower and toilet (no tub)

• combined living and cooking area

• 2 large bedrooms

• 1 small bedroom (extra bed can be added on request for sixth person)

• bathroom with shower and toilet (no tub)

• guest toilet
*One of the two-room apartments is handicap accessible