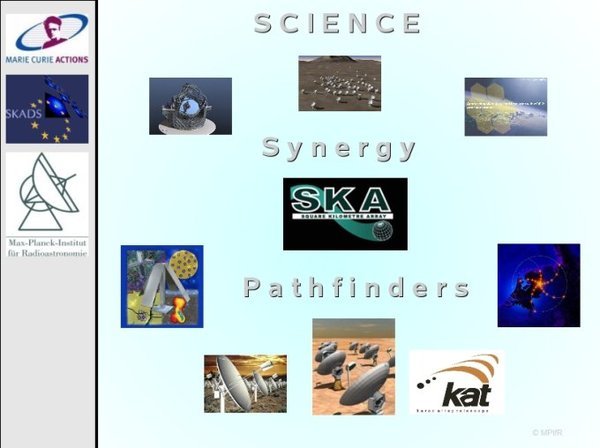 ASTRONOMY IN THE NEXT DECADE: SYNERGIES WITH THE SQUARE KILOMETRE ARRAY
Scientific Workshop hosted by the MPIfR, April 14-18, 2008

Marie Curie Conferences and Training Courses on the Square Kilometre Array Design Studies (MCCT SKADS)
The workshop was partially funded by the EC FP6 programme in the frame of the SKADS Marie Curie Conferences and Training program.
AIM OF THE WORKSHOP
The aim of the EU Marie Curie programme (MCCT) was to promote, discuss and disseminate the SKA and SKADS ideas to young researchers. The programme should provide the next generation of European astronomers with basic and advanced scientific and technology knowledge, thereby securing the high-level role of European radio astronomy for the future. The programme consisted of training courses, schools, astronomical workshops and technical workshops. This was the first astronomical MCCT SKADS workshop which was focused on the astronomical and scientific aspects of SKA, addressing in detail Key Science Areas of SKA:
Evolution of galaxies and cosmic large scale structure
Probing the Dark Ages-the first black holes and stars
Extreme tests of General Relativity using pulsars and black holes
The origin and evolution of Cosmic Magnetism
The Cradle of Life
The current state of research in these fields was summarized and used as a starting point for the discussion about the expected impact of SKA and other major future facilities (such as LOFAR, ALMA, ELT, Space Missions). Using this framework of discussion, synergies and complementarity of astrophysical research in different spectral domains was explored in detail.
PARTICIPANTS AND PRE-REGISTRATION
The workshop was tailored to graduate students and researchers at a postdoctoral level. The number of attendants was limited to 35. There was a moderate registration fee. Especially female researchers were strongly encouraged to participate in the workshop.
VENUE AND ACCOMODATION
The workshop was held at the MPIfR in Bonn. Participants were expected to stay for the full length of the workshop.
GRANTS
Financial support for travel and accommodation (full support for low-cost travel and lodging in medium-class hotels for 5 nights) was available for up to 20 attendants from eligible countries in the European Union and associated states. To apply for a grant one should indicate this at the time of registration, followed by a recommendation letter to the LOC signed by the supervisor or the Director of the Institute describing the relevance of the attendance.
ELIGIBLE COUNTRIES
EU:
Austria, Belgium, Bulgaria, Cyprus, Czech Republic, Denmark, Estonia, Finland, France, Germany, Greece, Hungary, Ireland, Italy, Latvia, Lithuania, Luxembourg, Malta, Netherlands, Poland, Portugal, Romania, Slovakia, Slovenia, Spain, Sweden, United Kingdom
ASSOCIATED STATES:
Turkey, Iceland, Israel, Lichtenstein, Norway and Switzerland